Background
Abdominal obesity is the most commonly observed component of metabolic syndrome and a major risk factor for type II diabetes and cardiovascular disease. In addition to obesity, an individual's risk of cardiovascular disease and type II diabetes is strongly correlated to a series of risk factors, collectively referred to as a metabolic syndrome, including insulin insensitivity, elevated plasma triglycerides, hypertension, and low plasma high-density lipoproteins (HDLs). Reducing obesity and successfully preventing or treating metabolic syndrome medicinally remains a significant challenge.
Technology Overview
In a preclinical study, 9-week old wild-type C57BL/6J mice were fed a high-fat diet (HFD) to induce weight gain and obesity-related impairments. HFD-fed mice supplemented with the xanthohumol derivative gained significantly less weight over the 11-week feeding period than untreated HFD-fed mice. There were no changes in food intake between untreated and treated mice. The compound also improved glucose metabolism assessed by a glucose tolerance test after four weeks of feeding. These effects suggest a potential use of xanthohumol derivative as an anti-obesity agent. Mice treated with the xanthohumol derivative displayed elevated activity (including fine movement such as grooming, scratching, and direct locomotion) and increased ambulatory locomotion assessed using metabolic cages.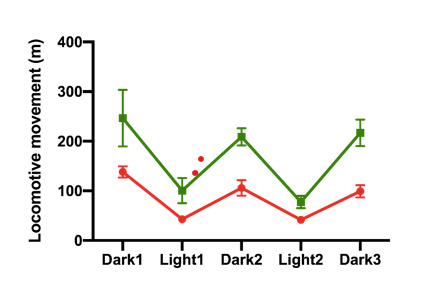 Figure 1: Increased Locomotive Movement (green) versus control (red)
The xanthohumol derivative was well-tolerated by HFD-fed mice at a dose of 30 mg/kg/day for 11 weeks. Toxicity of the xanthohumol derivative was assessed in vitro using MTTcell viability assays on human liver cancer cell lines HepG2, murine adipocyte cell lines 3T3L1, and murine myoblast cell lines C2C12 cells. At concentrations lower than 50 μM, the xanthohumol derivative had no effect on the viability of HepG2 and C2C12 cells. A dose-dependent reduction in cell viability occurred at 10 μM of xanthohumol derivative in3T3L1 cells suggesting toxicity of xanthohumol derivative specific to adipocytes. This specificity might also represent a beneficial feature for future development as an anti-obesity drug.
Benefits
Decreasing weight gain by increasing energy expenditure and locomotor activity in subjects

Improving glucose tolerance

Newly synthesized molecule has evidence of biologic activity in a preclinical study as well as safety and drug-like properties

The xanthohumol derivative that has been created avoids the metabolism into the phytoestrogen
Applications
Natural product derived compound for maintaining healthy weight

Anti-obesity drugs

Potential drugs for obesity, cardiovascular disease, and type II diabetes
Opportunity
Oregon State University is seeking a licensee or development partner for this invention that contributes to the drug discovery field by introducing a molecule with potential as a clinical candidate. The pharmacological properties exhibited by xanthohumolmethyl-pyrazole in rodents are relevant to preponderant human pathologies such as obesity.
Patents
U.S. provisional patent application filed
IP Status
Provisional patent

Patent application submitted
Seeking
Development partner

Commercial partner

Licensing

University spin out