Fast quantification of spine fractures, curvature, vertebral deformities, vertebral texture, vertebral strength, bone density, and intervertebral disk measurements using CT, MR, DXA, PET, or X-ray images for evaluation of spine health and surgery planning.
Problem:

Bone mass and quality deficiencies are the leading cause of bone disease in the United States. Vertebral fractures attributed to poor bone quality (e.g., osteoporosis) are a major medical concern that may require surgical treatment and often result in physical disability. Unfortunately, the use of medical imaging leads to the detection of only one-third of vertebral deformities/fractures as vertebral measurements are generally obtained by radiologists and orthopedic surgeons by manual annotation of vertebrae. Patients undergoing spine surgeries or those at risk for osteoporosis could benefit from state-of-the-art spine health analysis.
Invention:
The invention is an automated, neural network used for the analysis of the vertebral bodies on spine MR, CT, PET, or X-ray imaging. This approach allows to determine vertebra-by-vertebra deformity including scoliosis and lordosis as well as to monitor changes in bone strength, density, and structures over time. It allows for simultaneous intervertebral disk measurements and can be used for the diagnosis of disk degeneration and spine fusions. The invention presents an opportunity for early diagnosis of vertebral health which would permit early interventions, could be useful for spine surgery planning, intra-operative surgical decision making, and robotic surgical guidance.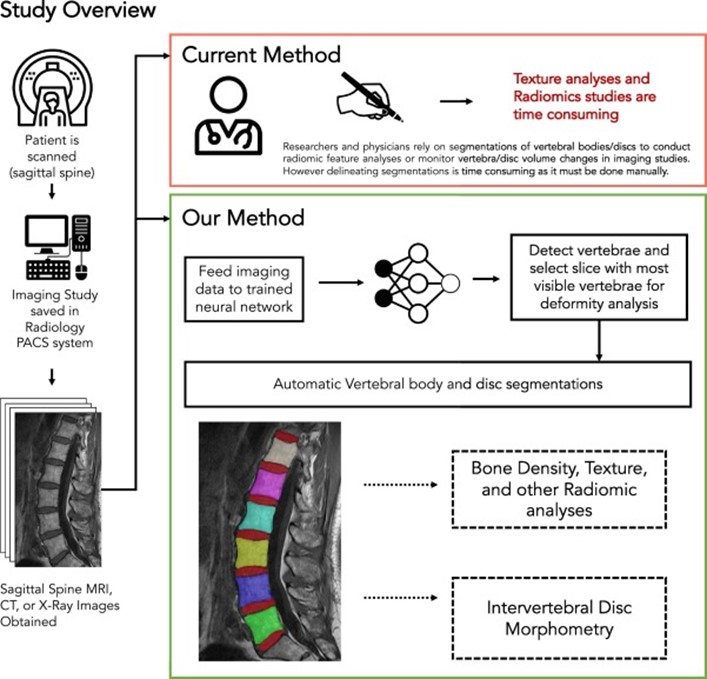 Basic overview of the method.
Advantages: 
- Saves time for radiologists and orthopedic surgeons
- Avoids subjectivity introduced by manual measurements
- Permits to determine for both type and severity of deformity or fracture
- Multimodality – can be used on MR, CT, PET, DXA, or X-ray images
- Evaluation time is < 2 seconds/slice
Stage of Development:   
The AI model is fully trained, tested, and validated using a large number of real-world spine images of patients. Fully functional software had been developed.
Intellectual Property:

Provisional Filed
Reference Media:
Suri et al., Bone, 2021, 149 - 115972 
Suri et al., Radiology: Artificial Intelligence, 2021, Vol. 0, No. JA (published online) 
Desired Partnerships
• License
• Co-development
Docket # 21-9508
­