Background
According to the US Environmental Protection Agency, 5.4 million tons of glass containers ended up in landfills (in 2018) although glass containers are recyclable. Silicon is considered to be the next-generation alternative to current graphitic anodes in Lithium-Ion batteries with its high theoretical capacity of 3572 mAh/gram. A large number of routes to design silicon-based anodes continue to be explored. However, many of these methods are limited by their complex procedure, expensive raw materials, and low yield of active material. A few other methods require significant energy consumption and highly toxic precursors.
Current Invention
Researchers led by Profs. Cengiz and Mihrimah Ozkan pursued the development of technology that could turn these waste glass containers into high purity Silicon nanoparticles for Lithium-ion batteries. The novel, patent-pending technology converts crushed waste glass bottles into a highly pure and interconnected network of Silicon nanoparticles through magnesiothermic reduction. The silicon nanoparticles are then conformally coated with a carbon layer.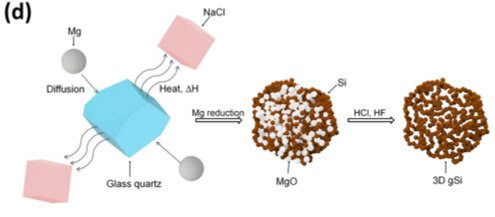 Schematic illustration of the Magnesiothermic reduction with NaCl as heat scavenger.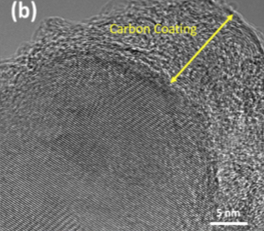 Transmission electron microscopy image of gSi@C nanoparticles with conformal carbon coating
Website
https://techtransfer.universityofcalifornia.edu/NCD/32657.html?utm_source=AUTMGTP&utm_medium=webpage&utm_term=ncdid_32657&utm_campaign=TechWebsites
Advantages
The significance and importance of their invention are:
Ability to navigate precisely and exclusively with CDMA signals.
Significant reduction in navigation metrics – HDOP, VDOP, and TDOP.
Flexibility – the design is hardware agnostic.
Modularity – different functions can be independently implemented.
Upgradability – minimal changes are needed to improve the design.
Potential Applications
Unmanned aerial and ground vehicles
Automotive
Smart phones
Consumer electronics
Contact Information
Name: Venkata Krishnamurty
Title :
Department :
Email: venkata.krishnamurty@ucr.edu
Phone :
Address :