Background
Supercapacitors with the higher power density and higher energy density will play an important role in applications that depend on intermittent energy sources (such as wind) and in regenerative recharging in automobiles. Pseudo-capacitors take advantage of fast and reversible surface redox reactions to provide 10-100 times the higher energy density than electric double-layer capacitors. Among metal oxides used for pseudo-capacitors, Ruthenium Dioxide (RuO2) – especially the hydrous and amorphous RuO2 exhibits superior performance – though scarcity and high price prevent its large-scale production.
Current Invention
Inventors led by Profs. Cengiz and Mihrimah Ozkan have developed a patented, Nickel (Ni) Nanodendrite attached on Ni nanowire backbone which is synthesized directly on Ni foam as a novel support for hydrous RuO2 nanoparticles and its application to symmetric supercapacitors. In their synthesis, hydrous RuO2 nanoparticles are dip-coated onto Nickel Nanodendrite Foam (PDF) and annealed at 150 deg. C under vacuum.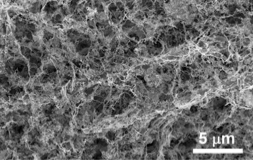 Scanning electron microscopy image of RuO2 coated PDF.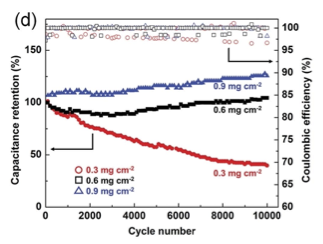 Capacitance retention and coulombic efficiency at various RuO2 loading.
Website
https://techtransfer.universityofcalifornia.edu/NCD/32655.html?utm_source=AUTMGTP&utm_medium=webpage&utm_term=ncdid_32655&utm_campaign=TechWebsites
Advantages
The benefits of their innovation and discovery are:
High capacity and long cycle life.
Fast cycling rates of 3C – very valuable and desired for fast charging of electric vehicles.
Minimal changes in morphology post cycling after 1,500 cycles at 3C rates.
Low temperature processing results in smaller grain sizes which facilitates the formation of a polymer gel-like material which supports longer cycle life and minimal morphology changes.
The electrodes' Nickel backbone prevents damage caused by mechanical stress due to volume changes.
Potential Applications
Lithium-ion battery anode
Rechargeable energy storage
Contact Information
Name: Venkata Krishnamurty
Title :
Department :
Email: venkata.krishnamurty@ucr.edu
Phone :
Address :