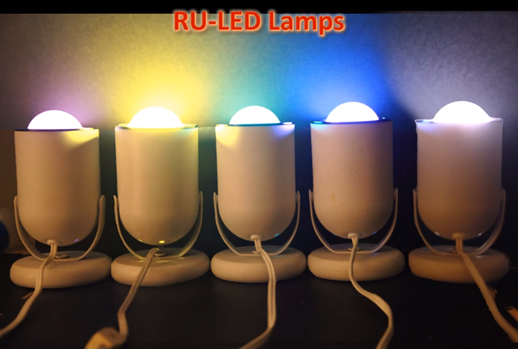 Invention Summary:
Light-emitting diodes (LEDs), the main branch of solid-state-lighting (SSL) technology, are rapidly replacing conventional lighting sources because they are much more energy-efficient and longer-lasting. However, current LED devices rely heavily on rare-earth elements, which are in severe cost and supply risk in addition to the serious negative impact of the mining process to the environment.
Researchers at Rutgers University have developed a new synthetic method to prepare a family of novel lighting phosphor materials that possess exceptionally high luminescence efficiency and significantly enhanced thermal and photostability. With the formation of extended networks of 1D, 2D, and 3D crystalline structures built on highly emissive copper-iodide molecular clusters, this method is ideal as an alternative to producing robust and highly efficient phosphors free of rare earth elements for energy-saving lighting devices. This invention can be used in light-emitting devices to generate the entire visible spectrum, including white, orange, green, blue, and yellow colors.
Advantages:
Low-cost, rare earth element-free phosphor material

High quantum yields and prolonged stability

Excellent luminescence efficiency

Environmentally friendly
Market Applications:
Light-emitting diodes (LEDs) and compact fluorescent lamps

Computer displays, car headlights

Possible use in various other optoelectronic devices such as photodetectors, lasers, electroluminescence devices.
Intellectual Property & Development Status: Patent pending. Available for licensing and/or research collaboration.
Website:
https://techfinder.rutgers.edu/tech/Novel_Rare_Earth_Element-Free_Lighting_Phosphors_with_High_Quantum_Efficiency_and_Enhanced_Thermal_and_Photostability
Contact Information:
TTO Home Page: https://techfinder.rutgers.edu
Name: Shu Wang
Title: Sr. Licensing Manager
Department: Innovation Ventures
Email: sw967@research.rutgers.edu
Phone: 848-932-4468