Background
Global navigation satellite systems (GNSS) at the heart of all navigation systems may become unusable due to:
Severe attenuation in indoor or deep urban environments.
Intentional and/or unintentional jamming.
Spoofing.
In these scenarios, signals of opportunity (SOPs) are an alternative or complement to GNSS. SOPs include AM/FM radio signals, cellular signals, and Wi-Fi signals. The challenges with using SOPs for navigation are a lack of architectures that can provide navigation and the unavailability of appropriate, precise low-level signal models to extract states and parameters for navigation. Common metrics used to assess the quality of GNSS are horizontal dilution of precision (HDOP), vertical dilution of precision (VDOP), and time dilution of precision (TDOP). Additional proprietary infrastructure (such as terrestrial transmitters) is required to minimize these metrics.
Current Invention
A team of inventors led by Prof. Zak Kassas at UCR has developed a novel, software-defined radio (SDR) platform that uses cellular CDMA signals (implemented in all mobile phones) for navigation when GNSS signals become unavailable. In addition to the architecture, their innovation includes precise low-level signal models for optimal extraction of relevant navigation and timing information from received CDMA signals.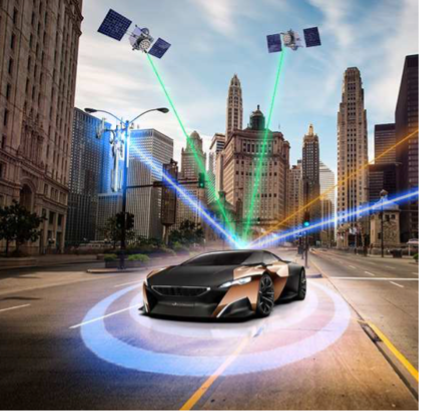 Illustration of using ambient SOPs to enhance and assist navigation.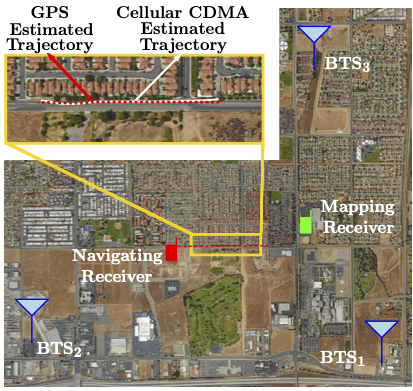 Results from implementation showing navigating receiver trajectory and the CDMA estimated trajectory
Website
https://techtransfer.universityofcalifornia.edu/NCD/32657.html?utm_source=AUTMGTP&utm_medium=webpage&utm_term=ncdid_32657&utm_campaign=TechWebsites
Advantages
The significance and importance of their invention are:
Ability to navigate precisely and exclusively with CDMA signals.
Significant reduction in navigation metrics – HDOP, VDOP, and TDOP.
Flexibility – the design is hardware agnostic.
Modularity – different functions can be independently implemented.
Upgradability – minimal changes are needed to improve the design.
Potential Applications
Unmanned aerial and ground vehicles
Automotive
Smart phones
Consumer electronics
Contact Information
Name: Venkata Krishnamurty
Title :
Department :
Email: venkata.krishnamurty@ucr.edu
Phone :
Address :