Background
Wireless Visible Light Communication (VLC) is enabled by Light Emitting Diodes (LED) and their ability to switch on/off at tens of MHz without flickering. Visible Light Communication offers significant advantages over Radio Frequency (RF) based wireless communication.
Optical spectrum offers a bandwidth upto 300 THz thereby allowing for streaming at multiple gigabits per second.
Data rates can be boosted with more emission power without harm to human beings.
Unable to penetrate walls, VLC is inherently secure.
Being interference free, VLC can co-exist with and complement existing RF technology.
VLC devices are inexpensive compared to multi-gigahertz RF devices.
Current VLC systems are essentially Lego-type testbeds that have significant disadvantages. These include:
Large size and complex electronics.
Low performance, low reliability and high cost.
Current Invention
Prof. Wang at UCR has developed a patented, system-in-a-package (SIP) and system-on-a-chip (SoC) architecture for VLC that integrates all the electronic circuits with the LEDs and photodetectors (PD) to make VLC and Visible Light Positioning (VLP) systems with integrated optoelectronics.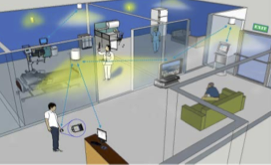 VLC/VLP scenario in an RF prohibited hospital.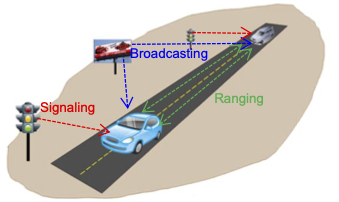 VLC/VLP scenario for smart traffic control.
Advantages
The novel aspects and benefits of their invention are:
The existence of a 1-2 nm thickness, native SiO2 shell on all the Silicon nanoparticles (SiNP) serves to mitigate volume expansion effects during lithiation.
The diameter of the SiNPs are 8 – 25 nm, well below the critical dimension.
Reduced bulk diffusion length for Lithium.
Excellent electrochemical stability and high degree of scalability.
No carbon black, metallic current collectors or polymer binders.
Magnesiothermic reduction process requires lower operating temperatures (700 deg. C).
Potential Applications
Lithium-ion and Lithium-Silicon batteries
Contact Information
Name: Venkata Krishnamurty
Title :
Department :
Email: venkata.krishnamurty@ucr.edu
Phone :
Address :