Background
The exceptional surface-to-volume ratio, high electrical conductivity, low thermal noise, low contact resistance, and the ability to strongly tune the conductivity by the gate in graphene make them promising for gas sensing applications. The sensitivity of graphene devices to NH3, NO2, CO, CO2, and O2 has been demonstrated. However, the selectivity of the graphene-based gas sensors is much less explored.
Invention
Prof. Alexander Balandin discovered that the vapors of different chemicals produced distinguishably different effects on the low-frequency noise spectrum of graphene. It was found that some gases change the electrical resistance of graphene devices without changing the low-frequency noise spectra while other gases modified the noise spectra by inducing Lorentzian components with distinct features. These discoveries led to the design and development of a novel, patented method for the selective detection of gases, vapors, and biological objects with graphene-based devices that do not require surface functionalization of graphene. The invention successfully demonstrates that the low-frequency noise in combination with other sensing parameters allows for selective sensing gases, vapors, and biological objects (virus, DNA, bacteria) with a single pristine graphene device.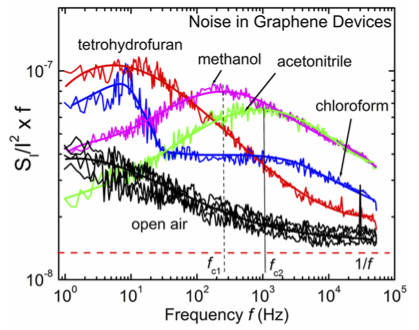 Noise spectral density SI/I2 multiplied by frequency f versus frequency f for the device in the open air and under the influence of different vapors.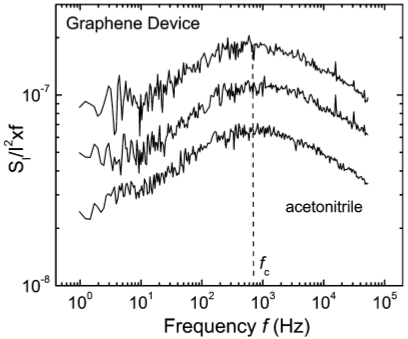 Noise spectral density SI/I2 multiplied by frequency f versus frequency f for three different single-layer-graphene transistors exposed to acetonitrile vapor – showing excellent reproducibility.
Website:
https://techtransfer.universityofcalifornia.edu/NCD/32710.html?utm_source=AUTMGTP&utm_medium=webpage&utm_term=ncdid_32710&utm_campaign=TechWebsites
Advantages:
The significance of the invention is that it:
Provides a design for a graphene based device for selective sensing which has proven to be repeatable and reproducible.
Provides a design for a graphene selective sensor array where the graphene does not need to functionalization for the application.
A method for selective sensing with low frequency noise as the sensing parameter.
Potential Applications:
Sensitive and selective sensors for:
A wide variety of gases.
Biological detection such as viruses, bacteria and DNA.
Contact Information:
Name: Venkata Krishnamurty
Email: venkata.krishnamurty@ucr.edu